Want to See This Ad on Television? Help Us Make That Happen!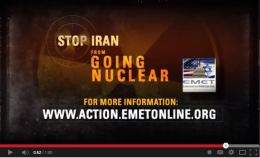 Thanks for watching our video, and taking action against the threat of a nuclear Iran. Please share the video on social media, including Twitter and Facebook, using the hashtag #StopIranNukes. And don't forget to "Like" us on Facebook to stay up to date on our news, events, and more at www.facebook.com/EMET4U, and follow us on Twitter @EMET4u.
Finally, we believe that this is a crucial issue for all Americans. That's why we're hoping to raise the funds necessary to show this commercial on television channels across the country in order to wake up America about the threat of a nuclear Iran.
Can you help us?
Click to Donate to the Endowment for Middle East Truth. We're a 501(c)3 tax-deductible nonprofit. Your contribution will go towards helping America wake up and take action against the threat posed by a nuclear Iran.